Unique Accomodations
Tucked neatly along the bank of the McKenzie River rests a row of historic cottages and lodge suites with their own unique charm and personalities. Each privately-owned
McKenzie River Cottage
is available for your stay— any time of the year.
Breathe in the clean mountain air... and simply relax. Sit back on your private deck and enjoy the melody of the river far away from the distractions and responsibilities of everyday life. Or if you prefer, stay in touch via our wireless internet connection.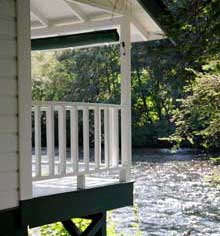 Steeped in History
Experience Oregon in a whole new way. Drive through the Belknap Covered Bridge into scenic old growth of the Willamette National Forest— and you have only begun to appreciate the beauty and majesty of the celebrated McKenzie River Valley.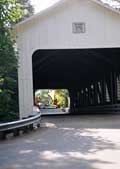 This is a perfect destination for families or couples just wanting to get away. Amid the romance of the natural environment, you'll create memories to treasure for a lifetime.
As you escape to this unspoiled hideaway, you'll feel as though you've gone back in time. Such noted celebrities as Herbert Hoover, Clark Gable, and the Duke of Windsor have come here to relax and to fly fish the unforgettable McKenzie River. Indeed, the history of the famous McKenzie Drift Boat can be traced here to its namesake.
"All men are equal
before fish."
—PRESIDENT HERBERT HOOVER MCKENZIE RIVER VACATIONER
Known as one of Oregon's premier fly-fishing rivers, the scenic McKenzie River offers a challenge to the most skilled fishing enthusiast.

The river flows mere steps from your cottage door. Its soothing babble will leave you relaxed and refreshed.